Cream Formula Molodosti (Formula Of Youth), 50 ml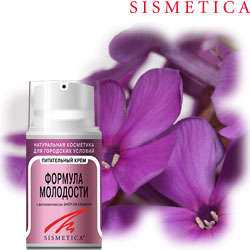 The nourishing cream for dry or combined skin with age-related changes. Especially it is intended for women after 40 years as a day and night cream.
Effect: the cream recovers the disturbed epidermal barrier, activates regeneration processes, smoothes wrinkles, nourishes and moistens face's skin, makes skin elasticity, smooth, shining, effective protects skin from adverse weather conditions.
Composition: demineralized water, Sesamum indicum (sesame) oil, Zea mays (corn) oil, phitocomplex Silicon Energy, behenyl alcohol, wheat germ oil, Spiraea (spirea) extract, Bidens extract, Rose hip extract, emulsion wax, phospholipids and phytosterols of soyabean (Glycin), cetylstearyl alcohol, glyceryl stearate, Sea buckthorn oil, phenoxate, methylparaben, propylparaben, methylisothiazolinone, sodium EDTA.
Price 5.76 €
---
Cream-Jelly, 50 ml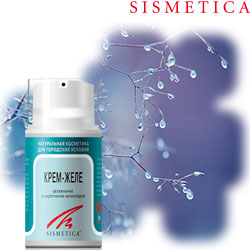 The intensive moistening and nourishing regenerating cream for any skin type, age 25+. Due to hyaluronic acid it has the prolonged moistening action, it prevents premature wrinkles. The cream-jelly has very light and soft texture, it quickly absorbes into the skin and doesn't leave greasy luster.
The horse chestnut (Aesculus hippocastanum) extract contains Escin which strengthens capillaries walls, decreases the skin reactivity. So this cream is recommended for the skin with couperose.
Effect: cream-jelly regenerates the natural level of structural proteins in skin cells, increases the skin flexibility and elasticity, softly moistures and nourishes, has antioxidative properties, smoothes out the skin relief, regulates lipometabolism, has the anti-inflammatory effect.
Composition: demineralized water, Linden floral water, glycin, flax seeds extract, cranberry (Oxycoccus) seeds oil, jojoba oil, Butyrospermum parkii butter (Shea butter), avocado oil, extracts of Tilia platyphyllos (Linden) flowers, plantain leaves, seeds of horse chestnut, ascorbyl tetraisopalmitate, Squalane, vitamin E, hyaluronic acid, lecithin, glycerin, sorbitol, xanthanum gum, polyglyceryl-10-stearate, polysorbate-20, phenoxate, benzyl alcohol, salicylic acid, polyacrylate, polyisobutene, triethanolamine, sorbic acid, parfum.
Price 7.88 €
---
Day Moistening Correctional Cream With SPF 10, 50 ml
The light and soft cream for daily use. The cream is intended for all skin types. It protects skin from damage effects of UV-A and UV-B rays in the midland conditions and in any season. The bioactive complex of Uji tea extract, vitamin E and alfa-bisabolol - combined with physical UV-filter prevents premature skin aging. It protects skin from desiccation and sunburns. The cream corrects (modifies)uneven complexion and skin pigmentation, prevents dryness and desquamation. The cream softens and moistens the skin.
Application: apply the cream on a face skin before you go out. The cream can be used as the make-up base.
Composition: demineralized water, titanium dioxide, propanedioldicaprilat, Squalane, macadamia oil, Biosaccharide gum-1, potassium cetylphosphate, glycerin, Uji tea extract, cetylstearyl alcohol, cetearete-20, vitamin E, polyglyceryl-10-polyricinoleate, glyceryl monostearate (bemul), Stearyl Caprylate, Stearyl Heptanoate, caprylyl methicon, phenyl trimethicone, xanthanum gum, carbomer, caprylyl glycol, alpha-bisabolol, Methylisothiazolinone, sodium EDTA, triethanolamine.
Price 6.71 €
---
UltraSun SPF 30, 50 ml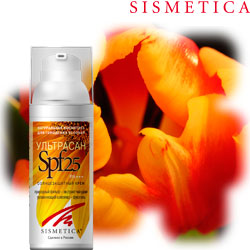 The light and hydrostable cream surely protects skin from the damage effect UVA and UVB rays due to combination of physical and organic UV filters. It is intended for all skin types. The cream effective counteracts from the drying action of sea salt, from heat and low temperature of high mountains; it increases the level of skin moistening. The special cream formula activates the natural mechanisms of skin regeneration and protection, prevents from the premature aging. The cream preserves the even skin tone, improves the skin condition.
Application: apply on a skin face and body 20-30 minutes before sun exposure, apply again after 2-3 hours, during all time of sun exposure and after water treatments and wipe with a towel.
Composition: demineralized water, ethylhexylmethoxycinnamate, C 12-15 alkyl benzoate, titanium dioxide, methylbenzylidenecamphor, Biosaccharide gum-1, Mangifera Indica (Mango) Seed Butter, glycerin, propanedioldicaprylate, benzophenone-3, potassium cetylphosphate, Uji tea extract, polyglyceryl-10-polyricinoleate, Stearyl Heptanoate, Stearyl Caprylate, cetylstearyl alcohol, vitamin E, xanthanum gum, carbomer, caprylyl methicon, caprylyl glycol, alpha-bisabolol, methylisothiazolinone, sodium EDTA, triethanolamine.
Price 5.88 €
Temporarily out
---
Foundation (Natural Tone): CI77891, CI77492, CI77491, CI77499, 20 ml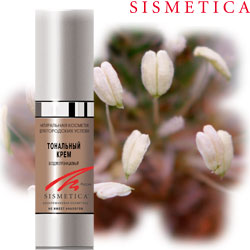 The foundation combines full care and protection of the skin with the steady effect of the make-up.
Effect: this cream is easily applied on the skin, it has mattifying effect, generates breathable protecting of pellicle on the skin that allows to breath for the skin.
Composition: demineralized water, organic silicon oligomers complex, ethylhexylstearat, methyl methacrylate crosspolymer, olive oil, octylmethoxycinnamate, paraffin oil, glycerin, perfume oil, silicon oxide, dimethylsilylate, isopropyl myristate, phenoxyethanol, wheat germ oil, green tea extract, vitamin E (tocopherol acetate), pigments.
Price 11.29 €
---
Sunscreen Spray SPF 30, 150 ml
New Product!
Composition: demineralized water, ethylhexyl methoxycinnamate, benzophenone-3, 4-methylbenzylidene camphor, isoamyl laurate, D-panthenol, glycerin, extract of nymphaea caerulea, stearyl heptanoate, stearyl caprylate, isoamyl cocoate, vitamin E (Tocopherol Acetate), acrylate, caprylyl glycol, phenoxyethanol, methylparaben, ethylparaben, sodium EDTA, parfum, triethanolamine.
Price 6.59 €
---
Cream "Volshebny Duet", oil-in-water emulsion, 50 ml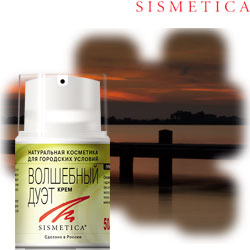 The cream stimulates the natural process of skin cells regeneration, age 25+. It increases skin tonus and normalizes skin moisture. The cream has high transdermal conduction due to phenoxate, organic silicon oligomers and lecithin. It smoothes fine wrinkles, removes skin irritation and peeling. It adds for the skin flexibility and silkiness. The cream has the unique combination of classical (lecithin) and exclusive (phenoxate and organic silicon oligomers) transport. The maximal effect of the skin integument renovation is achieved when you use cream-mask "Volshebny Duet" and cream "Volshebny Duet" together.
Composition: demineralized water, jojoba oil, hydrogenated lecithin, Squalane, Biosaccharide gum-1, Oryza (Rice bran) oil, Butyrospermum parkii butter (Shea butter), ascorbyltetraisopalmitate, organic silicon oligomers, phenoxate, palmitic acid, microcare 7170.
Price 7.88 €
---
Balm "Kudesnik" ("Wizard"), 10 ml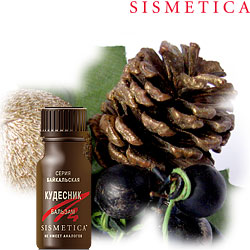 It is recommended as healing of wounds and antiphlogistic for the skin and mucous tunic with open wounds, cuts, burns, stomatitis, periodontosis and other inflammatory process. The balm is the excellent whitening, tonic and bactericidal mask for face.
Effect: the healing of wounds, has bactericidal effect, quickly and effectively removes inflammatory processes on the skin and mucous tunic; it is the treatment-and-prophylactic agent from fungal diseases of skin feet; appling on gums after the tooth brushing the balm sanitizes the oral cavity and regenerates the natural enamel color; reduces inflammation in dot application on face and body; has whitening effect for the skin.
Application: as a thick balm for the wound and burns, blackheads, for applications and lightening of age spots. Wounds and burns need to smear two-five times in a day. To avoid moisture. The slight burning stops after 5-10 minutes. When fungus disease, apply the balm by a thin layer and let to dry, avoid moisture a few hours. For strengthen the oral mucosa rub the balm in gums and make applications. After toothbrushing and oral rinse may to drip 1-2 drops of the balm on a clean toothbrush and rub teeth and gums again. After such treatments tartars doesn't form.
As aqueous solution for mucous membranes irrigation, gargles: one teaspoon or more per 250 ml of water. When angina gargle with the balm. When rhinitis irrigate a nose. When colon sicknesses give enemas. When female inflammatory and fungal diseases syringe and plug tampons into vagina.
Composition: extracts of Cedrus (cedar) needles, resin, cones, bark.
Our cosmetics is recognized of own efficiency!
About success of the company look here: http://sismetica.com/?str=abcomp
Price 4.59 €